Education, Professional and even Personal Development for SNA Members-
Membership Certificate and Credentialing Program Report
Check out what SNA National has to offer toward Education and Professional Development here!
Check out the Steps Challenge, developed just for School Nutrition Professionals to help you become the healthiest, happiest you... learn how!
Have you heard of our STEPS Challenge? It is a wellness program designed just for School Nutrition Professionals!
The STEPS Challenge provides the resources and inspiration to help SNA members live healthier and happier, one step at a time. The Challenge is designed to make better health and wellness simple, fun, and attainable. Sign up for the free program and you'll gain access to recipes, exercise ideas, success stories, prizes, wellness tips, and more.
The STEPS Challenge approach is simple. It's all about making small changes to get healthier and live well. STEPS stands for: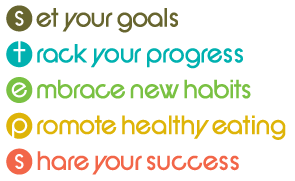 Why wait? It's time to take the first step towards living a healthier, happier life.
The STEPS Challenge continues in 2014-2015! Browse the website for brand new monthly challenges, important updates, new recipes, and fitness tips.